The Fonz Motorcycles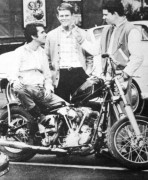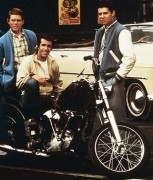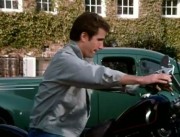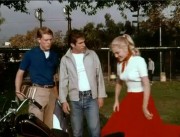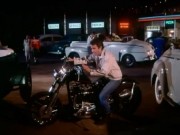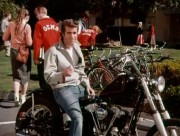 Where is this actual motorcycle today from season 1 ??? The original Fonzie bike was a chopped Knucklehead Harley that was way cooler than the 2nd bike (grey gas tank we all know) they used. That bike should be set up in the Smithsonian with his jacket. Only reason they changed the bike is because it was too much bike for Henry to handle. Too big for him, so they got him a smaller lighter bike he could sit on and push since he could not ride. He can not ride a motorcycle at all. He has tried but his dyslexia is SO bad he can't process how to operate the brake, clutch and gears. I feel bad for Henry cause he is a super nice guy too. So any time you see Fonz riding a motorcycle, it's for only a few seconds then quickly they had to grab him off of it. Other times they had it strapped down to a trailer while they pulled him. Also notice Fonz had no black leather jacket either. Just that flimsy windbreaker.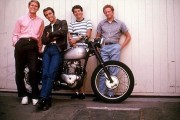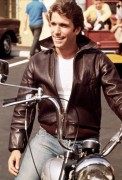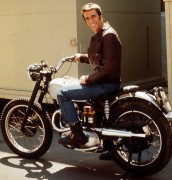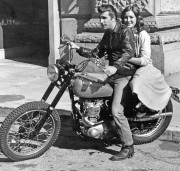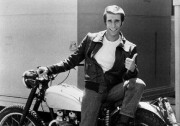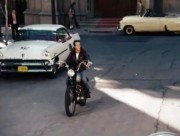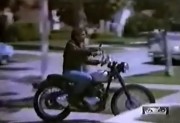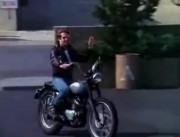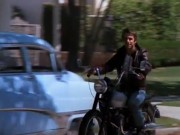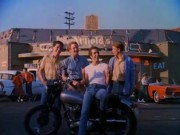 There were 3 motorcycles used on the show, but the most remembered was the 1949 Triumph Trophy 500 with the silver gas tank (shown above). It was SUPER RARE you actually saw him pretending to ride it,so it was for only a few seconds.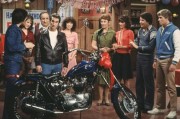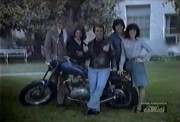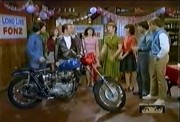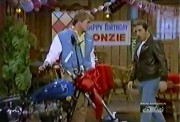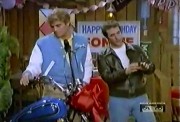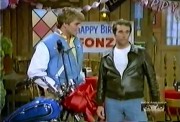 Fonzies 3rd motorcycle (blue gas tank) was introduced in Season 8 Episode 173 "The Sixth Sense" When Fonzie wrecks his motorcycle, Joanie, Chachi, and Jenny Piccalo steal Fonzie's money to buy him a new one for his birthday. What kind of bike is this and where is it today? No clue. If you know, email me. Thanks
According to the "King of Cool" himself, "The Fonz" (Henry Winkler) never actually rode any motorcycles during the ten year Happy Days television run. Winkler, never rode a bike in real life either, he has dyslexia, which made it difficult for him to co-ordinate the clutch, throttle and brake. Instead, the bikes (Harley Davidson's, Triumph's, BSA's were used) were mounted on a piece of wood with wheels to make it look like he was riding, even though I am not shocked, I am a little disappointed. You can watch the interview with Winkler, the famous motorcycle jump "The Fonz" made over 14 trashcans and a bonus "Jump the Shark" video after the jump. Go to YouTube it's there.
"Famous double-headline bike was owned by legend Bud Ekins."
The 1949 Triumph Trophy TR5 Scrambler Custom ridden by The Fonz in the television hit series Happy Days will be one of the highlights at Bonhams' upcoming Classic California Sale in Los Angeles.
Happy Days, the beloved American sitcom that aired for ten years from 1974 to 1984 and attracted millions of viewers each week, helped launched the career of such actors as Ron Howard, Scott Baio and Henry Winkler. Winkler's character, Arthur Fonzarelli – known famously as The Fonz and Fonzie – was initially just a secondary character that became so popular with fans he was soon made the central figure of the show. As the epitome of cool, the motorcycle-loving Fonzie, dressed in the stereotypical garb of The Wild Ones, spawned countless wannabes among the youth of America and became a cultural icon that still resonates today. And Fonzie's motorcycle, a customized Triumph, was owned off-screen by another cultural icon, Bud Ekins.

The late Bud Ekins was famous as a motocross racer, Hollywood stuntman (he's the one that made that legendary motorcycle jump over the barbed wire fence in The Great Escape), and as Steve McQueen's best friend. With his warehouse of hundreds of motorbikes, Ekins was the go-to man in Hollywood when producers needed two wheels. So when the people from Happy Days called, it was Ekins who determined what the coolest guy on TV should be riding. Taking an old Triumph in his collection, he simply removed the front fender, replaced the handle bars and spray painted the tank silver and, violá, the Fonzie bike was born. Of course, no one had any idea of just how popular the show would become or the magnitude of fame Winkler's character would achieve.

This now iconic emblem of American pop culture will be offered by Bonhams at their annual Classic California Sale, held November 12th, at the Petersen Automotive Museum in Los Angeles. Renowned for offering property from famous actors each year – Steve McQueen, Charles Bronson, Clark Gable and Bruce Willis, to name just a few – this autumn auction is not to be missed by aficionados of pop and custom culture and entertainment and automotive history.
A recently discovered 1949 Triumph Trophy 500 Custom motorcycle driven by Henry Winkler as The Fonz in famed TV series Happy Days will be offered for sale at Bonhams' Classic California auction on Nov. 12.
Expected to fetch up to $80,000 at Bonhams' California sale. Expected to fetch up to $80,000, the marvelous motorbike was customized by Steve McQueen's good pal Bud Ekins specially for the show. One of the world's coolest Triumphs, untouched since it last rolled across television screens 27 years ago, it's ready for its second act. Aaaaeeeyyy!
http://driven.urbandaddy.com/2011/11/01/the-fonzs-triumph/
Fonzie's Tr5 Up for Auction - The 1949 TR5 that Bud Ekins built (perhaps slapped together) for Happy Days and now Mean Marshall owns is going up for auction!
http://vorhese.blogspot.com/2011/10/fonzies-tr5-up-for-auction.html
http://www.bornrich.com/entry/bonhams-auction-fonzies-triumph-motorcycle-happy-days/
http://www.therpf.com/f45/fonzis-happy-days-motorcycle-129040/
http://wheels.blogs.nytimes.com/2011/10/07/the-fonzs-happy-days-triumph-motorcycle-to-be-auctioned/
http://www.foxnews.com/leisure/2011/10/11/aaaay-fonzies-motorcycle-cruising-to-auction/
http://www.autoblog.com/2011/10/09/fonzies-triumph-motorcycle-up-for-auction/
http://abcnews.go.com/blogs/entertainment/2011/10/the-fonzs-motorcycle-from-happy-days-up-for-auction/
http://blog.zap2it.com/pop2it/2011/10/the-fonz-motorcycle-from-happy-days-to-be-auctioned.html
http://www.emmytvlegends.org/blog/?p=4002
http://www.dailymail.co.uk/news/article-2046157/Fonzies-famous-Triumph-bike-sold-auction-discovered-hidden-motorcycle-shop.html
http://news.cnet.com/8301-17938_105-20118415-1/aaaaeeeyyy-fonzies-motorcycle-up-for-auction/
http://www.wired.com/autopia/2011/10/ayy-fonzies-bike-is-for-sale/
http://www.washingtonpost.com/blogs/celebritology/post/fonzies-happy-days-motorcycle-up-for-sale-photo/2011/10/11/gIQAWOiFcL_blog.html
http://www.craigboyce.com/w/2011/10/fonzies-motorcycle-is-for-sale/
http://www.topgear.com/uk/car-news/fonzie-bike-triumph-auction-2011-10-12
http://www.bonhams.com/eur/press/6100/
http://www.auctionnewsnetwork.com/memorabilia/celebrity-memorabilia/buy-fonzies-bike/5533/
http://motorcycles.about.com/b/2011/09/30/fonzies-triumph-motorcycle-from-happy-days-to-be-auctioned.htm
http://www.cycleworld.com/2011/08/30/fonzies-triumph-for-sale-special-feature/